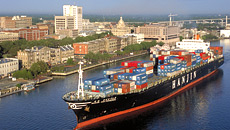 The Port of Savannah, the nation's fastest growing port and fourth largest container port, handles 80 percent of the ship-borne cargo entering Georgia.  Georgia DOT is the local sponsor for the Savannah Harbor.  As local sponsor, Georgia DOT is responsible for:
Providing easements and rights-of-way for upland disposal areas
Providing 35% of the cost required to raise the dikes at the upland disposal areas in the Savannah Harbor
Savannah Harbor Expansion Project
Georgia DOT provides technical expertise to support the Savannah Harbor Expansion Project (SHEP).  This project will provide the following benefits:
Create more than 11,000 jobs in the Southeast and nationally
Reduce shipping costs by $213 million a year
Provide $282 million in annual net benefits
Yield a $7.30 return for each dollar invested
The expanded harbor will accommodate larger vessels that are the new standard in global shipping.