Georgia Rail Map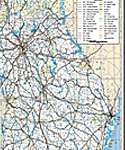 Georgia boasts one of the most extensive Freight Rail systems in the U.S., with 5,000 miles of track that run through most of the state's 159 counties.
View Estimated Track Route Mileage
Class I Railroads
The Freight Rail System primarily consists of two Class 1 Railroads—Norfolk Southern and CSX, which own and operate 71% of the total state system.
| Railroad | ​Railroad Miles |
| --- | --- |
| Norfolk Southern | 1,912 |
| ​CSX | ​1,626 |
Light Density Lines
Georgia DOT owns nearly 540 miles of light density rail line. Approximately 90% of the 540 miles is leased to a shortline operator.
Overview
The Georgia Rail Passenger Program (GRPP) consists of a comprehensive plan for two distinct kinds of rail transportation: commuter and intercity trains. Commuter trains would serve inbound commuters going to work in the metro Atlanta area in the morning and then traveling home in the evening. Intercity trains would connect communities throughout Georgia and the Southeast. 
The GRPP contains seven commuter rail lines, seven lines of intercity rail service as well as the Multi-Modal Passenger Terminal (MMPT).
Intercity Rail
Intercity Passenger Rail Service in Georgia is provided by the National Railroad Passenger Corporation, known commonly as "AMTRAK."  
Commuter Rail
Georgia's seven commuter lines serve 55 communities. Once the 425-mile system is complete, commuter trains will transport over 40,000 people to and from work everyday. Intercity trains will run on over a thousand miles of Georgia's railroads, connecting communities all over the state.
View Commuter Rail Service Map
Passenger Rail Service Links
High-Speed Rail
Studies continue for high-speed passenger rail service on four corridors:
Atlanta to Birmingham
Atlanta to Charlotte
Atlanta to Louisville
Macon to Jacksonville