Traffic Interruption Request Form
Contractors working on the state highway system along Georgia DOT's right-of-way can complete the Traffic Interruption Request Form to report needed lane closures. Traffic interruption reports are processed in the order they are received. To ensure your TIR form is processed in a timely manner, TIR forms must be submitted at least 48 hours in advance for weekly closures and 72 hours in advance for weekend closures.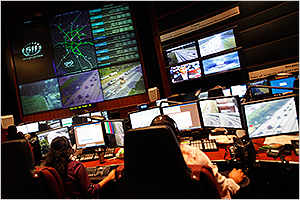 ​Approximately 1,645 Video Detection System (VDS) stations are installed approximately every 1/3 mile along most major interstates around Atlanta. These VDS cameras provide continuous speed and volume data to the TMC and allow the system to generate travel times for the Changeable Message Signs (CMS).
The system also includes 500 full-color Closed-Circuit Television cameras, positioned about every 1 mile on most major interstates around Atlanta. The CCTVs have tilt, pan and zoom capabilities and serve as traffic cameras sending real-time footage to the TMC operators.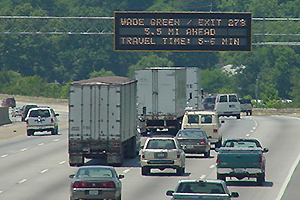 Changeable Message Signs (CMS) relay up-to-the-minute information to drivers. CMS are located on most major interstates around Atlanta and display two primary messages:
Travel Time
The travel time is calculated from average speeds over a stretch of roadway through information collected from the VDS cameras. The CMS inform drivers of travel times between major points along the interstate system. Travel time information is provided between 6am and 9pm.
Incident Messages
These messages inform travelers of accidents, stalls, construction and other problems that may cause delay on the roadway. The CMS relay the incident location and specify which lanes are affected.
The Transportation Management Center (TMC) is the information clearinghouse for Georgia 511. The TMC monitors the roadways and collects real-time information from Video Detection System (VDS) cameras along the interstates. Operators also gather information taking 511 calls from travelers regarding traffic congestion and roadway incidents.
Transportation Control Centers
In addition to the TMC, there are a number of smaller Transportation Control Centers (TCC) and another TMC, located in Macon, Georgia. These satellite centers are also run by the counties and cities to manage the arterial road systems. Close coordination of hardware, software and staff, between the Georgia DOT and these agencies, provides for seamless real-time traffic information in these areas.