Raised medians manages access and improves safety. Also,provides pedestrian refuge.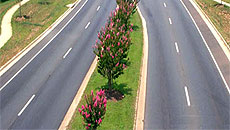 Criteria
Arterials with traffic volume of > 18,000 and future volume projected at > 24,000 vehicles per day
High turning volumes
High crash rates
Number of driveways
Pedestrian crossings
Benefits
Raised medians concentrate left turn movements and provide the following benefits.
Improve traffic flow
Increase business and employment in some areas when compared to congested roadways
Beautification
Urban / Suburban Areas
Raised medians provide the following benefits.
Greater vehicle and pedestrian safety
Pedestrian refuge
Improve levels of service
Reduce turning conflicts