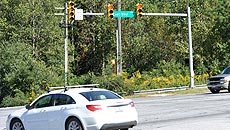 Flashing Yellow Arrows are just one of Georgia DOT's operational improvements that are cost-effective, proven, innovative and safe. Federal Highway Administration (FHWA) encourages the use of Flashing Yellow Arrows. Based on FHWA guidance, Georgia DOT policy now identifies Flashing Yellow Arrows as the preferred intersection traffic signal.
FHWA studies found that flashing yellow arrows:
Help reduce left turn crashes by 35%
Move more traffic through an intersection, easing traffic congestion
Reduce vehicle idling and air pollution
Reduced pollution
NOTE: Drivers made fewer mistakes with the new Flashing Yellow Arrows than with traditional left-turn arrow signals.